The crux of our technologies lies in the ability of our people to harness knowledge, experience & network to bring about implementable solutions in a speedy and dependable manner.
Our relentless pursuit of new technologies and manufacturing trends allows for early positioning and first mover advantage towards the benefits of customers.
We've built up vertically integrated capabilities that ensures uncompromising control over quality, lead time and cost-effective / competitive pricing.
Milestones
Founding of Moveon Technologies

Awarded "Best Innovation Company" by Emerging Enterprise.
Applied for patent in Replication of Optical Component Fabrication

Commercialising Optical Replication technology for optical components.
Acquired 1st Single Point Diamond Turning Machine (Moore's Nanotech)

Started In-House Tool Fabrication Founding of MRO Replication Optics Sdn Bhd in Sungei Petani

Acquired 2nd Single Point Diamond Turning Machine equipped with 4-Axis Capability.
Started In-House Optical Thin-Film Coating Services
Set up of Optics Research Lab to further facilitate and speed up research in optics prototyping, manufacturing, and coatings technology.

Establishment of the first nano-fabrication laboratory.
Set up cleanroom facilities, bringing semiconductor best practices into the world of optical fabrications.
Acquired 1st 2-Photon-Polymerization (2PP) Machine (Nanoscribe's GT2).

Commercialized micro & nano optics prototyping via 2-Photon-Polymerization.
Set up Wafer Level Optics (WLO) fabrications, enabling mass production of nano optics.
Established support centre in San Jose, US with 2nd 2PP Machine (Nanoscribe's GT2).

Acquired 1st Direct Laser Writing (DWL) Machine (Heidelberg's DWL 66+)
Commercialized Mastering Technologies via 2PP, DWL and Diamond-Turning.

Acquired Single Point Diamond Turning Machine equipped with 5-axis Capability (Moore's Nanotech).

Expansion of Class 10K & 100K facilities, housing more than 60 units of manufacturing machines and equipment.
Development of Metalens Manufacturing Techniques.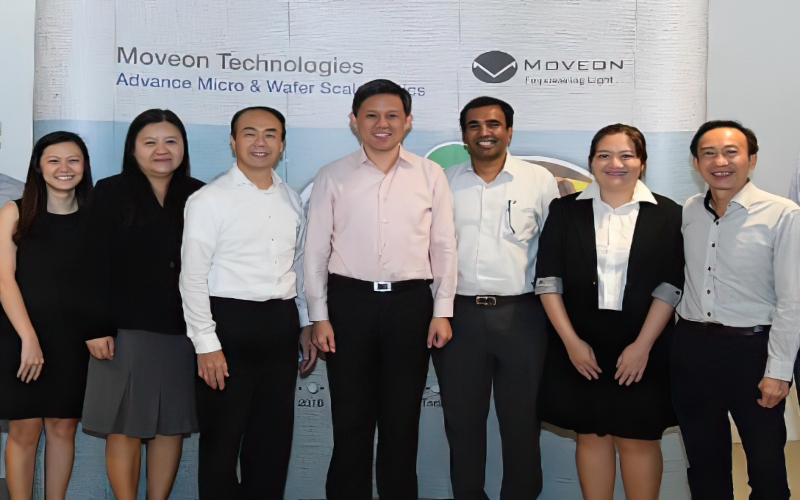 Mission
With the growing significance of optical components in many electronics industries, Moveon Technologies aims to be recognized as reliable partner in Total Lighting Management. Through our wide range of optics engineering and fabrication solutions, we shall continuously cater to the evolving needs of clients and consumers alike.
Vision
Our every step is geared towards innovation and ingenuity, so that we may play a valuable role in the development of products that can change the way humans live their lives.
Quality Policy
Moveon Technologies dedicates itself to maintaining the highest standards of quality. We are ISO 9001 &14001 certified, attesting to the stringent practices that we hold in place to meet the demands of our clients.
Our Core Values
Staying ahead of the curve
Moveon Technologies is constantly in pursuit of the latest advancements in optics engineering and fabrication. Our goal is to always stay ahead of the curve greatly investing in the development of people and the acquisition of knowledge. We can add more value to the products and services that we offer.
100% accuracy in design and development
Our solutions are totally tailor-made according to the exacting needs of our clients. To begin with, we strive to understand their requirements to the last detail, ensuring 100% accuracy in our design and development. Keeping in stride with an ever-changing optical technology landscape allows us to stay tuned to our clients' business objectives.
Speed is a key factor in our processes
Even with our focus on product quality and customer service, we make sure that we never have to compromise on our committed timelines. Being in a highly fluid industry, speed is a key factor in all our processes. We work hard to deliver our solutions in a prompt manner, always meeting and exceeding clients' expectations.
Moveon Technologies comprises optical experts who have been in the industry for several years.
Our founders and management have held relevant positions in multinational companies focusing on manufacturing and engineering solutions. Leveraging on our long-standing relationships in the market, we have come to acquire an impressive network that we now use to better service our current clients.
As most of our people have been with us since inception, clients can expect to work with a stable and coordinated team. From the finance, operations, and general managers, to the R&D, engineering, and quality managers, we bring together our expertise under one roof. Creating a pleasant and productive working environment between the company and our clients is a top priority for us.